Dr Leif Isaksen, Lancaster University
Mapping historical datasets – a place for everything and everything in its place?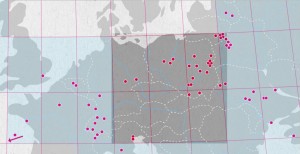 a
Workshop of DARIAH-PL Digital Philology Working Group
organised by
Digital Humanities Centre at the Institute of Literary Research of the Polish Academy of Sciences (CHC IBL PAN)
Digital Humanities Lab, University of Warsaw (DHLab UW)
Wednesday, 18 November 2015
Institute of Literary Research of the Polish Academy of Sciences, Nowy Świat 72, Room 144 (1st floor)
Outline: This workshop will explore some of the tools, techniques and issues of mapping historical datasets. It will focus in particular on data preparation, geolocation and visualization of data using freely available technologies. Example data will be provided but participants are also welcome to bring and work with resources related to their own research.
AGENDA:
10:00 – Opening remarks – Dr Maciej Maryl
10:15 – 11:45 – Introductory lecture – Dr Leif Isaksen
11:45 –12:00 – Coffee Break
12:00 – 13:30 – Project presentations
questions and commentary by Dr Isaksen. Chair: Dr Maryl
Literary Atlas of Polish Romanticism (Dr Bartłomiej Szleszyński, Institute of Literary Research, Polish Academy of Sciences)
Mapping Chopin (Dr Artur Szklener, The Fryderyk Chopin Institute)
Tools for spatial indexing (Dr Michał Marcińczuk, Wrocław University
of Technology, CLARIN-PL)
History Atlas (Arkadiusz Borek, Institute of History, Polish Academy
of Sciences)
13:30 – 14:00 – Discussion
14:00 – 15:00 – Lunch Break (own arrangements)
15:00 – 18:00 – Tutorial: presentation of the Pelagios project and the introduction
to Recogito.
Leif Isaksen is a Senior Lecturer in History (Digital Humanities) and has a broad array of interests in the Digital Humanities, Web Science and Ancient Geography. He was formerly Associate Professor of Archaeology & Digital Humanities at the University of Southampton and co-directed its Web Science Centre for Doctoral Training. He is an executive committee member of the European Association for the Digital Humanities (EADH) and Chairs the Publications Committee of the Alliance of Digital Humanities Organisations (ADHO). He is a former Trustee of the International Association for the History of the Map (ISHMap) and Chaired the NeDiMAH network's Working Group on Space and Time in the Digital Humanities. He moderates two online networks for computing in the Humanities (Antiquist and The Networks Network).
Leif is a Director of the Pelagios initiative which uses Linked Open Data to connect online resources about the past.  Earlier projects he has been involved with include Google Ancient Places which visualized places from antiquity in massive corpora; Hestia, which explored the geographic aspects of Herodotus's Histories; Crossbones, a tool for the schematic visualization of in situ human and faunal remains; the RTIViewer for Reflectance Transformation Imaging; and the Virtual Lightbox for Museums and Archives (VLMA). He has degrees in Archaeology, Computer Science and Philosophy and worked for several years as a professional software developer.